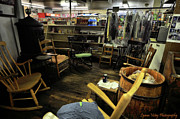 LCC is about relationships. The greatest need in our area is relationships. These facts probably have something to do with LCC's growth over the last few years. In order to keep serving our community, LCC needs to expand our capacity for relationships.
Right now I am wrestling with what relational expansion looks like.It is one thing to grow an organization, but it is very different to grow in relational capacity. The real question is how does a church become the woodstove in a country store. Country stores used to have a gathering place for rural America, but they have disappeared. If we are serious about reaching rural areas, we must be serious about being the woodstove environment in our communities.
I have been reading Ray Oldenburg's classic
The Great Good Place.
Oldenburg's book defined Starbuck's attempts to be a relational third place in urban America. My dream is to see LCC form the next relational place in the rural areas of America. Oldenburg observes the purpose in such spaces:
Unites the neighborhood
Assimilates newcomers in the area
Provides a neutral ground for relational formation and healing
Provides a sorting area where relational connections can be accepted or rejected
Provides a staging area where community dynamics are rehearsed
Provides "public characters." (Persons that define and represent the community)
Brings generations together
Provides interaction where needs are addressed and communities can care for one another
Provides a fun environment
Promotes political thought and action
Promotes intellectual thought and interaction
Provides unofficial offices for community leaders
LCC's next step is to expand our capacity for relationships to meet the deepest needs in our region.
(Formation meeting Tuesday Oct. 4 at 6pm at the Morgansburg Rd. Campus for those interested in shaping this vision)